Dude, Where's My Trowel?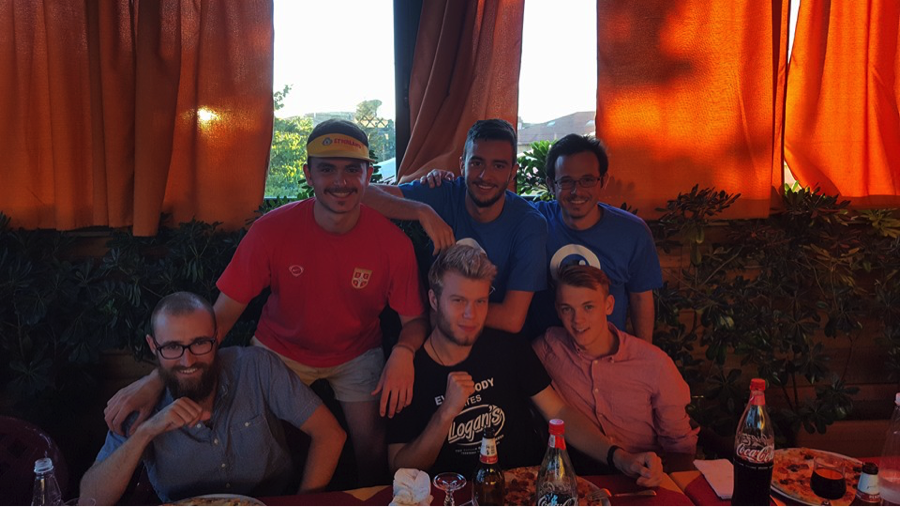 Working at the American Excavations at Morgantina: Contrada Agnese Project this past summer has convinced me that I want to pursue graduate work in archaeology. I could write pages about how great the dig was from an academic standpoint but I'd like to share some about the social fabric. While the dig wasn't easy – it was hard work and often hot – it was very fun! I arrived on the first night to find that my soon-to-be Swedish roommate August (he was already Swedish, soon-to-be my roommate) and I were the first volunteers to reach Aidone. I immediately knew that we would get along well when we each simultaneously came up with the idea to find the best pillows, fans, and blankets in the apartment and trade them for the ones that were in our room. (Jeremy, Mooney, Alex and Chaz, if you are reading this, yeah we did that. If you had gotten there on the first night you could have had the best pillows too.)
Our apartment was hilarious. I feel like I was laughing the entire seven weeks. Often our only form of communication was through terrible Brooklyn accents, the worst being August's, whose fake Swedish-Brooklyn heritage was downright terrifying. Our apartment had several bedrooms and one main room with no furniture in it, which became a basketball court, a ballroom, a yoga studio, and a strategic place to scare people exiting the bathroom. After we learned that the style of the local gentry is comprised of tracksuits, half of our apartment got matching tracksuits that we wore constantly.
I wasn't surprised that I had a great time with the guys in my apartment, but I was pleased to learn how fun everyone else on the dig was. Many archaeologists will tell you that some digs have a strict social division between staff/supervisors and volunteers. This is not the case at all at the Contrada Agnese Project. I often hung out with staff members and supervisors. Many have PhD's and were still willing and happy to participate in our jokes. A mixture of staff and volunteers also competed in a local soccer tournament. I scored an own-goal against a team of Aidonese children, and while I'm not proud of that, I was not technically lying when I bragged at dinner that I scored a goal. The way the variety of project members approached the hopeless attempt at the tournament with humor was representative of the social interactions of the project as a whole.
The excavation was organized into trenches – a group of excavators with a supervisor and assistant supervisor who worked on a particular area of the site. Each trench developed its own hang out spots and jokes. Once or sometimes twice a week trenches would get together after a day of digging for "trench drinks." While this might not seem like a big deal, I think it is really great for volunteers on the dig who might be more shy than others, especially since being in a foreign country and doing manual labor for seven weeks without knowing anyone could be hard. By creating this trench camaraderie separate from the workday, the dig created an opportunity for volunteers to feel socially involved in a group outside of their apartment-mates.
I think the social unity and easy atmosphere was probably due to the tone set by the directors and supervisors. All interactions with them were easy going and encouraging. They also helped reinforce the traditions of the dig that occur every summer. One of my favorite traditions is the Baffo D'oro – a mustache competition that lasts the length of the season and culminates in self-promoting speeches given on the final night. Part of the contest involved weekly trips to the barbershop for mustache hygiene. Every Thursday evening, both project members receiving a shave and those who wished to remain spectators crammed into the barbershop to listen to the live music of the barbers and watch a razorblade whip around the jugulars of fellow excavators. What a time! One Thursday, I decided to get the Contrada Agnese logo shaved into the side of my head. It looked so terrible, yet was greatly admired.   I am excited to grow a mustache next year, although I won't be competing for the Baffo D'oro. I am the Baffo D'oro 2016 winner and am thus immortalized as a champion who no longer competes but instead offers advice on mustache grooming to the next generation of volunteers.
I feel very lucky that I was able to live with and learn from archaeologists who were deeply committed to the project. These are also the type of people I imagine working with professionally for the rest of my life. What a special group the Contrada Agnese Project is!